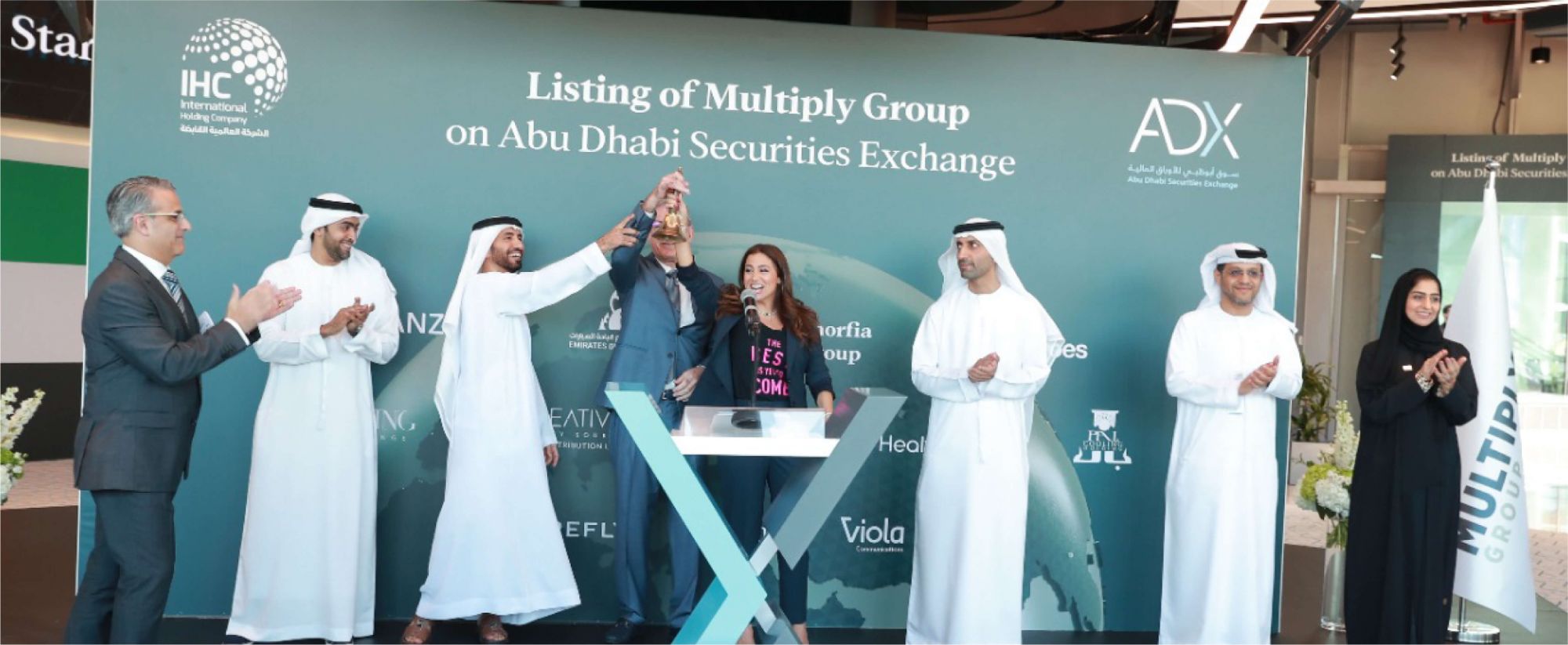 News
05 Dec 2021
• Trading debut marked by bell ringing ceremony in ADX's trading hall following direct listing on the ADX main market
• Multiply Group had assets of AED 8.16 billion and 3,240 employees as at end of September 2021

Abu Dhabi, UAE; 05 December 2021: Shares in Multiply Group, a subsidiary of International Holding Company (IHC), began trading on the Abu Dhabi Securities Exchange's (ADX) main board on the 05 December 2021 under the ticker MULTIPLY.
The market debut was marked by a bell ringing ceremony at ADX attended by H.E. Mohamed Ali Al Shorafa Al Hammadi, Chairman of ADX; Syed Basar Shueb, Board Member, Chief Executive Officer and Managing Director of IHC; Saeed Hamad Al Dhaheri, Chief Executive Officer of ADX; and André Sayegh, Chairman of Multiply Group.
The listing of Multiply Group offers investors the opportunity to participate in the growth of a diversified tech-focused portfolio. The company, which had assets of AED 8.16 billion and 3,240 employees as at end of September 2021, is pursuing a growth strategy focused on digital innovation in a number of sectors, including automotive, utilities, capital, wellness and communications.
Saeed Hamad Al Dhaheri, CEO of ADX, said: "We are pleased to welcome Multiply Group to ADX as a valuable contribution to the diverse investment offering on the exchange. The strong pipeline of listings that we have experienced this year has supported an expansion in our market capitalisation to over AED 1.5 trillion. Increased capital markets activity, together with the strong growth potential of companies in our region, has attracted strong investment flows to ADX, making ADX General Index (ADI) one of the best performing indexes in the world in 2021."
Samia Bouazza, CEO and Board Member of Multiply Group said: "Listing on the Abu Dhabi Securities Exchange is an opportunity to broaden our shareholder base and provide ADX investors with access to a differentiated investment portfolio. This is the beginning of a new journey. Our number one commitment is achieving both growth and maximizing shareholder value. In a fast-paced world where digital transformation is essential to accelerate business growth, we target tech-led acquisitions and empower our subsidiaries to adopt innovative solutions to gain excellence and become market leaders in their industries."

Multiply Group has made a series of acquisitions in the UAE and abroad in the last year to build a diversified portfolio of high-return businesses. These strategic investments include stakes in Emirates Driving Company, US-based digital media platform Firefly, and the full acquisition of integrated communications company Viola.